19black and Product Media
New Zealand Herald Sideswipe 21/3/14
Plastic flamingos back in the pink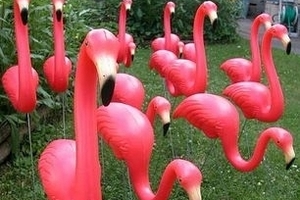 There are more plastic flamingos in the USA than real ones. Plastic flamingos are widely considered to be the stereotypical example of lawn kitsch - America's answer to garden dwarfs. The plastic species stopped replicating when manufacturer Union Products went out of business in 2006. However, Faster-Form Corp has purchased the copyright and plastic moulds of Don Featherstone's original plastic flamingos and will save the garden ornaments from unlikely extinction.
General Eclectic appears on 'The Block NZ' 1st October 2013
Loz and Tom win the styling challenge and the cover of Your home and garden. Their room features items from The General Eclectic range.

Australian House and Garden June 2013
Gorgeous blues and greens in the latest issue of Australian House and Garden. Spot the General Eclectic turquoise jug on the bedside...available from General
Eclectic Stockists..... page 49 June 2013, This combo of blues and greens is enviable! Styling by Vanessa Colyer Tay, photography by Chris Warnes.
NZ Gift and Homeware Fairs Official Magazine GIFT
March 2013, page 17
Congratulations go to Judy Williams of 19black for winning the Gift Trader credit prize. 19black (www.19black.co.nz) is an online retail gift store, based out of small town Te Aroha, specialising in kiwiana gifts, home decor, homeware, clothing and the unique and quirky. "The support of Gift Trader has enabled us to quickly grow our customer base both nationally and internationally". With the diverse range of products available at NZ Gift Fairs and on Gift Trader , we're bound to see more of their quirky ranges online in the future.